Lifestyles Semi-Custom Furniture in Toronto, ON
Customizing your leather and fabric furniture has never been easier or more affordable. We have two options available for semi-custom furniture in Toronto, ON, to reinspire your space.
It takes skill and experience to create custom furniture for decades. Big box brands and self-assembly furniture stores may boast a lower price point, but the reality is that well-made items pay for themselves with durability, style, and longevity. When you want products that will hold up to whatever life has in store, you need custom furniture from a company that knows how to assemble excellence.
Designed with You in Mind
Whether you need a luxurious leather couch designed to seat eight or a dining chair set made to match your heirloom table, our team is ready to make it happen. Come to us with your ideas, and we will help you choose the right size, leather color, arm style, and seating arrangement for your home.
Bespoke Comfort & Style
Please don't take chances on your furniture overwhelming the space; ask us how we determine the correct configuration and seating for your needs. Custom furniture is the only way to get the comfort you expect with a look you will love for years to come. We guarantee that bespoke designs only get better with time, and because they are so well-made, you will be able to pass your leather couch, sectional, or armchair on to the next generation.
Contact us with questions about our full line of custom couches, including sectional sofas and recliners.
Select your desired style – Seat | Arm | Back Cushion

Style Configuration Options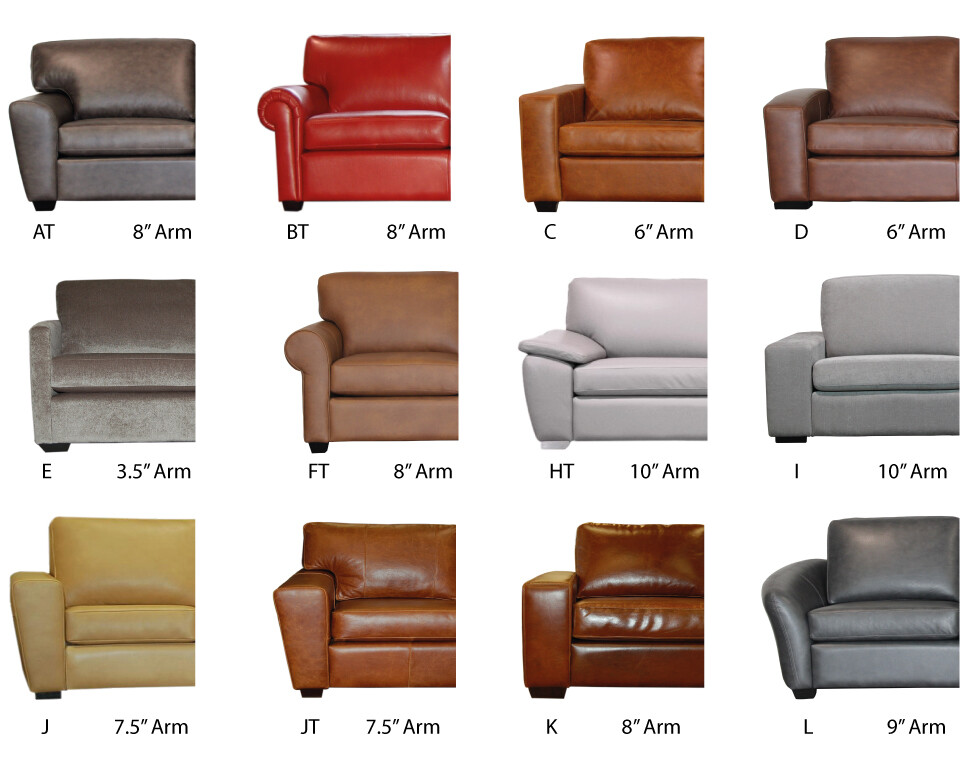 Leather or Fabric Options

Leg Options (Wood or Chrome)